Ocean Network Express together with DHL promote breast cancer awareness as part of the #ONEPinkRibbon campaign
<10th November 2022, London> Ocean Network Express (ONE) and DHL are collaborating to create awareness of breast cancer through the #ONEPinkRibbon campaign.
Launched in October 2021, the #ONEPinkRibbon campaign was set up by ONE to globally increase awareness of breast cancer. 100 of its iconic magenta containers were transformed to feature the pink ribbon – an international symbol for breast cancer awareness and to promote the importance of early detection of breast cancer. 
As part of the campaign, ONE is donating a percentage of the annual profit generated from the 100 pink ribbon containers to breast cancer charities around the world. The donation amounts will be calculated from the mileage of each container's annual transportation. In addition to this, ONE has invited customers to get involved through donating $1000USD per pink ribbon container booked. The donation will then be matched by ONE, with all money raised to go to different breast cancer charities around the world. 
As part of the campaign, DHL will be generously donating $1000USD per pink ribbon container which will be matched by ONE, making a total of $6000USD to be donated to Breast International Group (BIG).
David Stoeppler from DHL commented "When we heard about the #ONEPinkRibbon campaign we knew that DHL had to get involved in this worthy and lifesaving cause. With our shipment of 3 containers, we are proud to be contributing to BIG, a charity that carries out important research to find better treatments to fight breast cancer".
Doctor David Cameron from BIG applauded the campaign "We are very grateful for the collaboration between ONE and DHL for their generosity in having selected to partner with the BIG during this month dedicated to breast cancer awareness. BIG, as the world's largest global network of academic research groups working together to develop cures for breast cancer, along with ONE and DHL, share the same philosophy:  Only by uniting countries and regions, by working together, can we overcome the challenges we face. Together, we are BIG against breast cancer, together we are ONE."
According to the World Health Organization, in 2020 there were 2.3 million women diagnosed with breast cancer and 685,000 deaths globally. As of the end of 2020, there were 7.8 million women alive who were diagnosed with breast cancer in the past 5 years, making it the world's most prevalent cancer.

ONE and DHL are proud to support the fight against breast cancer, and ONE plans to run the campaign annually.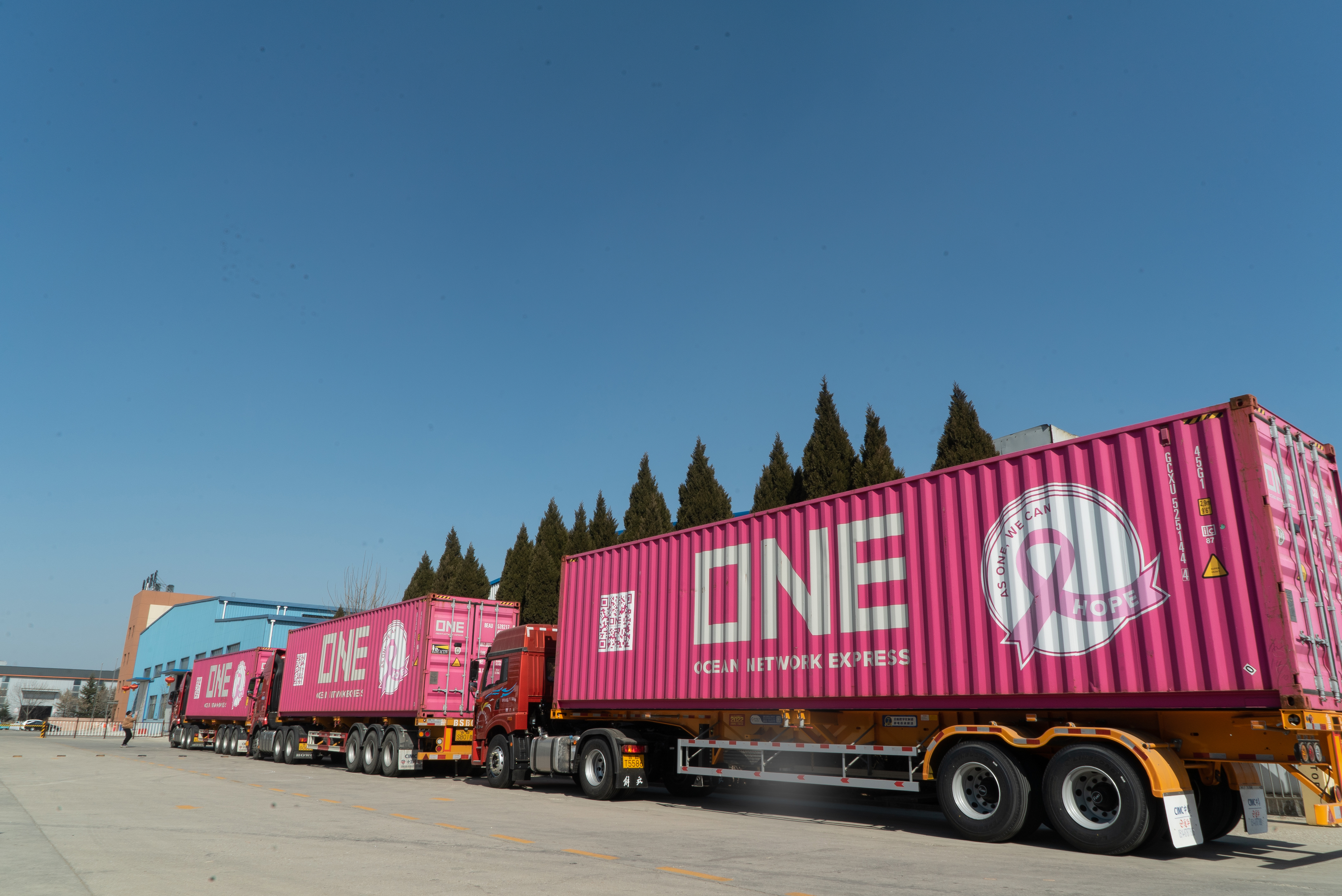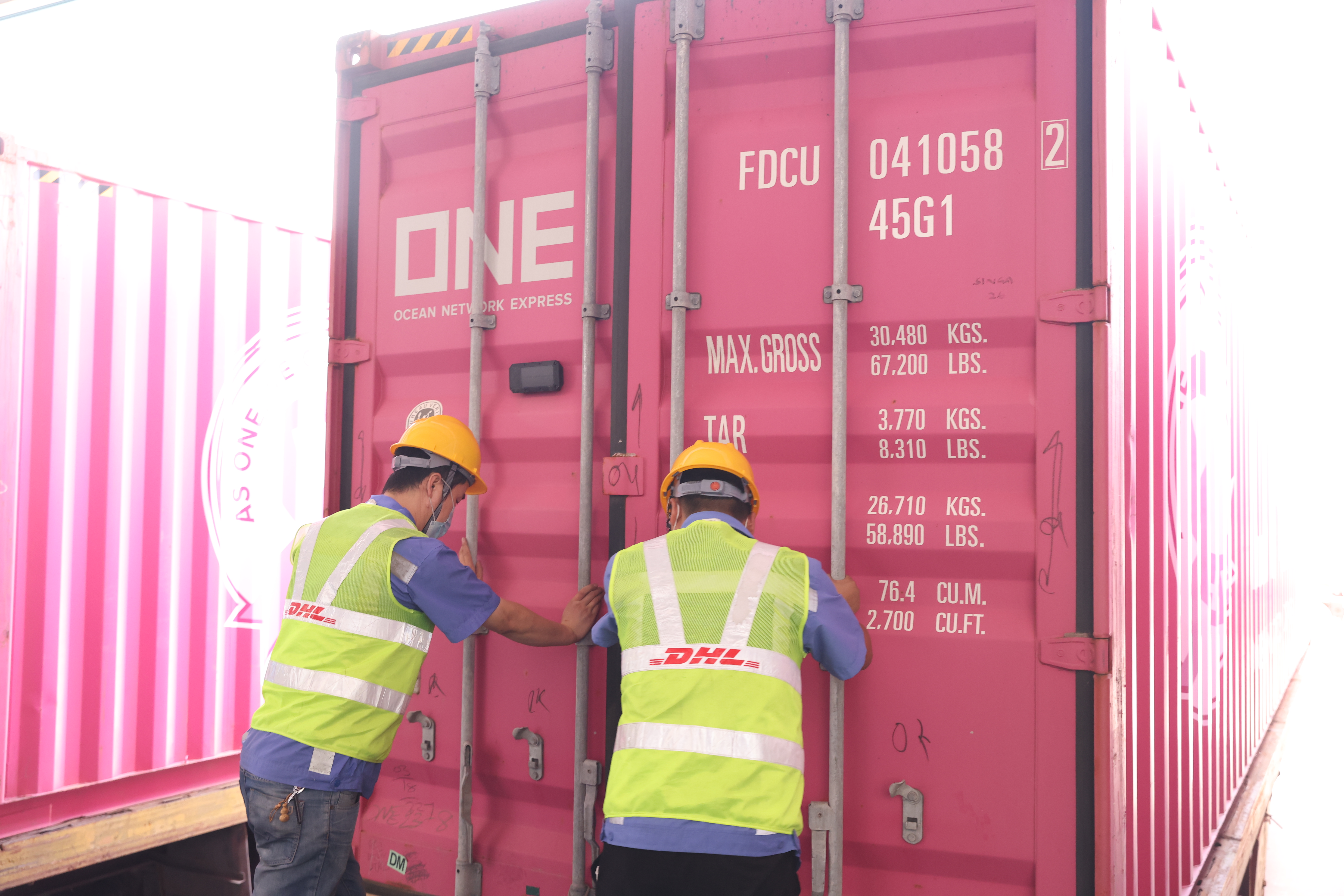 About Ocean Network Express (Europe) Ltd. 
Ocean Network Express (ONE) was launched on April 1st, 2018, with its headquarters based in Singapore. As of this press release, ONE is the sixth largest container shipping company in the world, operating more than 220 ships at a total capacity of around 1.6 million TEUs. ONE has its global business spanning across more than 120 countries. In FY2020, ONE completed nearly 12 million TEUs in lifting. Meanwhile, ONE has been actively furthering its endeavours in environmental sustainability and digitalization in its business to fulfil ONE's social responsibilities and deliver maximum satisfaction to its customers. Magenta is its signature corporate colour, used on its ships and containers deployed all over the world. 
For more information, please visit ONE at https://www.one-line.com 
About DHL – The logistics company for the world
DHL is the leading global brand in the logistics industry. Our DHL divisions offer an unrivalled portfolio of logistics services ranging from national and international parcel delivery, e-commerce shipping and fulfillment solutions, international express, road, air and ocean transport to industrial supply chain management. With about 380,000 employees in more than 220 countries and territories worldwide, DHL connects people and businesses securely and reliably, enabling global sustainable trade flows. With specialized solutions for growth markets and industries including technology, life sciences and healthcare, engineering, manufacturing & energy, auto-mobility and retail, DHL is decisively positioned as "The logistics company for the world".
DHL is part of Deutsche Post DHL Group. The Group generated revenues of more than 81 billion euros in 2021. With sustainable business practices and a commitment to society and the environment, the Group makes a positive contribution to the world. Deutsche Post DHL Group aims to achieve net-zero-emissions logistics by 2050.
For more information, please visit DHL at https://www.dhl.com/gb-en/home.html
About Breast International Group (BIG)
The Breast International Group (BIG) is an international not-for-profit organisation for academic breast cancer research groups from around the world, based in Brussels, Belgium.
Global collaboration is crucial to make significant advances in breast cancer research, reduce unnecessary duplication of effort, share data, contribute to the faster development of better treatments, and increase the likelihood of cures for patients. Therefore, BIG facilitates breast cancer research at international level, by stimulating cooperation between its members and other academic networks, and collaborating with, but working independently from, the pharmaceutical industry.
In 1999, BIG was founded by leading European opinion leaders with the aim to address fragmentation in European breast cancer research. Research groups from other parts of the world rapidly expressed interest in joining BIG and, two decades later, BIG represents a network of over 55 like-minded research groups from around the world. These entities are tied to several thousand specialised hospitals, research centres and world-class breast cancer experts across approximately 70 countries on 6 continents. More than 30 clinical trials are run or are under development under the BIG umbrella at any one time. BIG also works closely with the US National Cancer Institute (NCI) and the North American Breast Cancer Groups (NABCG), so that together they act as a strong integrating force in the breast cancer research arena.
BIG's research is supported in part by its philanthropy unit, known as BIG against breast cancer. This denomination is used to interact with the general public and donors, and to raise funds for BIG's purely academic breast cancer trials and research programmes.
For more information, visit www.BIGagainstbreastcancer.org